"Have to start

work for the dole

Work for the Dole is a program that applies to people in the mainstream Workforc...

soon, and their only option is to work at Salvos shops. They're the Salvos agency, so seems suss as fuck."
In addition to employment services, the billion-dollar organisation provides aged care, disability and homelessness services on behalf of the government. It funds charitable work while earning income from programs that inflict harm on people living in poverty.1 Salvos FY22 annual report, salvationarmy.org.au.
The Salvation Army has been a beneficiary of governments devolving responsibility for the welfare of people in poverty to third parties. It is one of the largest non-profits running human services programs, with operations spanning aged care, disability, housing, education, training and disaster response.
Fast facts
2.03 out of 5
Score from ratings submitted to the
AUWU app by people in
employment services.
57%
Proportion of Salvos revenue from government sources.2

$212 million
Value of published employment services
contracts.3Published contract values from the Department of Employment and Workplace Relations (source: tenders.gov.au) and the Department of Social Services (source: dss.gov.au/overview/departmental-contract-listing/grants-contracts). Workforce Australia: $21.7 million; Disability Employment Services: $28.2 million; Total: $49.9 million.
$974 million
FY22 revenue.4
CEO Magazine, 24 February 2022, 'Arriba Group's Marcella Romero named CEO of the Year – A$0- 100m turnover', apminvestors.net.au
$18 million
FY22 profit from 348 Salvos stores. As of January 2022, 287 Salvos sites were using forced unpaid labour through Work for the Dole.5APM FY22 annual report, p88, apminvestors.net.au
Salvos was formed in the industrial revolution to evangelise the poor through relief programs.6Diniejko A, 11 April 2013, 'The Origin and Early Development of the Salvation Army in Victorian England', Victorian Web.
"I was told I would be doing "retail" training at Salvation Army. I was actually told to move furniture around. I slipped a disc in my back and have had serious back issues ever since. The job agency I was tied to swept it under the table, it was never logged as an accident with anyone."
Today, as advocates we receive regular reports of people experiencing discrimination because of their gender, sexuality or disability when forced to engage with Salvos and other religious organisations to fulfil "mutual" obligations. And of course, there are countless examples of the more common forms of bullying and abuse experienced by people at the hands of employment services providersCompliance with "mutual" obligations is enforced by outsourced employment se....7 Henrique-Gomes L, 15 July 2022, 'Jobseeker forced to travel 60km to keep payments under new welfare program', The Guardian.
Employment services have been a valuable cash cow for the charity, which has the fourth largest Workforce Australia caseload of around 50,000 people a year.
They are the only large job agency that also operates a large number of Work for the Dole sites – 25% of all sites are operated by Salvos.8Antipoverty Centre analysis of senate estimates question on notice SQ23-000678 By our calculations, without the forced unpaid labour of thousands of people in poverty Salvos stores would run at a loss.9Antipoverty Centre analysis of information published in the Salvos annual report, retail award wage rates, the number of standard number of Work for the Dole hours and placement duration per participant, and senate estimates question on notice SQ22-000073.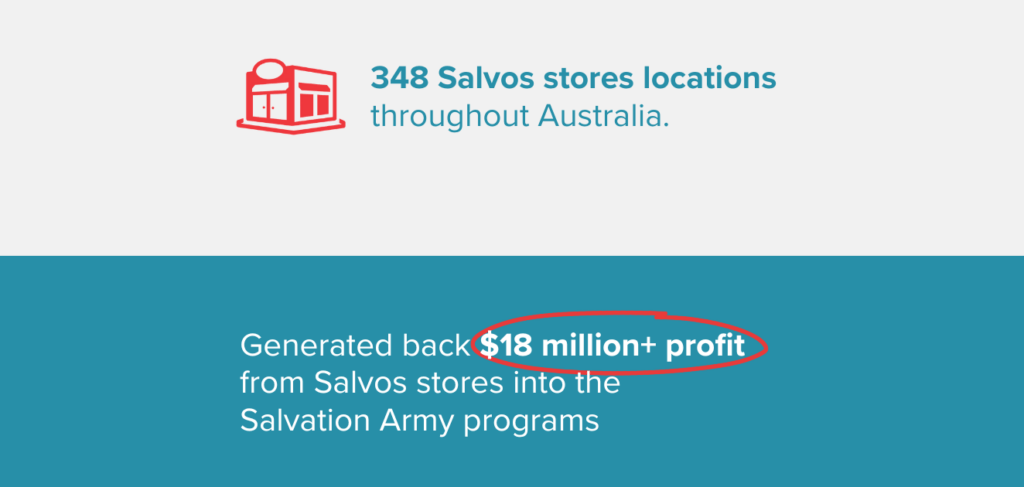 ---
Stories
Below you can read a selection of survey responses, reviews, news articles and social media comments about Salvos. We will be adding more survey responses and social media stories here in the coming weeks.
I only cling to life out of spite for a government duopoly that hates me
Employment services survey
The Punishment for Profit report is based on hundreds of responses to surveys conducted by the Antipoverty Centre. This research is ongoing. If you are in Workforce Australia, Disability Employment Services or a similar program, we welcome any information you are able to share about your experiences.